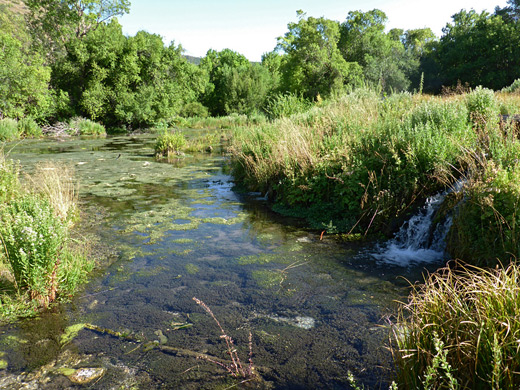 This place is called Cascade Springs and it's on the back side of Mt. Timpanogos. I use to go there all the time when I lived there and I love it. It is a natural fresh water spring that just bubbles spontaneously out of the side of the rocks way up in the mountains. It trickles down the mountainside and gains speed. It makes these beautifule pools on the way and by the time it reaches the bottom, it's a full fledged roaring river. It's so beautiful. When she was
a lot younger, I use to take my dad's bull dog, Murphy there.
We had so much fun. We would just hike around on the trails up there and every once in a while she'd feel brave and just leap right off a bridge into the water. The rangers would give me a dirty look and I'd have to apolagize. She's gotten so old now. She ca
n barely walk and if anyone in the family starts to laugh she starts to bark because she just wants everyone to be quiet so she can sleep. She's getting a little grumpy but I don't mind because I remember when she use to be so full of energy. I know we'll all miss our sweet little bull dog when she goes.