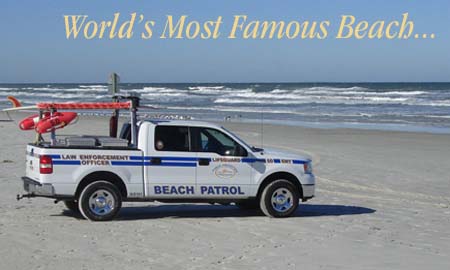 This part of Florida is very beautiful. The mainland and beach are separated by the Halifax river and a coastal strand called the "beach side" which means this town has two water fronts: a beach front and a river front. There is wild life everywhere and the vegetation grows wild, uncontolled and GREEN. Daytona Beach is certainly not what I expected. The West Coast perception of "The World's Most Famous Beach" is a coastal party town full of Nascar fans and girls in bikinis. I was a little nervous that it would be too much for me to handle compared to the laid back Pacific Beach, but my concerns were for naught. There are no people in Daytona Beach. No rednecks, no bikini girls. No night life, no day life... no signs of life. I tell you, it is the strangest town. There are hotels, gift shops and restaurants everywhere, but they're all closed down. Everyone is out of business and all of the buildings are for sale. The entire county, as far as I can tell is totally run down for the most part. Everything is dirty and in disrepair and the only industry that seems to be thriving are the thrift shops. The beach front property is the worst part of town, drug ridden and full of prostitutes. The nice homes in town are on the main land on the river front and even those need some serious love. I'd say at least one in four homes along the river are empty and for sale. I can see that this town has been hit very hard by the slow economy and I'm just praying that we can find jobs here to get us through Gabe's school; it's not looking too promising. It's a shame because it's such a beautiful area and the town has so much history and tons of potential. I just wish I had a bajillion dollars so I could fix it up.
After a little drama, Gabe and I were able to find a cute little house just north of Daytona Beach. It was FILTHY when we moved in but beggars can't be chosers so we cleaned for days and finally got unpacked. Click on the link below for a virtual tour of our new digs:
http://www.youtube.com/watch?v=OXgnt2rCQ-4
More Daytona info and stories to come in the very near future.